Volunteer Programs
Looking for volunteer opportunities in Pittsburgh? Want to make a difference in your community? Ursuline Support Service's volunteer opportunities are a great way to get involved and give back.
Ursuline Support Services depends on the people of Allegheny County and the surrounding counties for help in providing high quality services to vulnerable seniors and adults in our communities. You can help by volunteering your time and talent in a wide variety of avenues. Ursuline's array of volunteer opportunities offers something for everyone. Some opportunities involve working directly with our consumers, while other volunteer opportunities are more behind the scenes in our offices.
All our volunteers receive personalized training and support to ensure that they have an effective and rewarding volunteer experience. We can work with you to make your volunteer experience positive and enjoyable. Please contact us at 412-224-4700 to find out what a big difference you can make with just a little of your time.
All of our Independence Support Services are made possible through the help of volunteers. To read about available volunteer opportunities, check out our Independence Support Services page.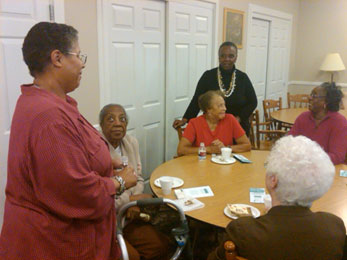 Checks & Balance
Ursuline Support Services' Checks and Balance Program, sponsored by the Allegheny County Area Agency on Aging, assists low-income seniors and disabled adults who have difficulty with their financial affairs and have problems maintaining their finances. This program matches trained volunteers with individuals that need help budgeting and assuring their bills are paid on time. The volunteers prepare bills for payment, assist with checking writing and balance checkbooks. This dedicated core of volunteers provides a valuable service to seniors in need of financial assistance, as well as much needed companionship on an ongoing basis.
For more information on Checks and Balance contact us at 412-224-4700.
Cart to Heart
The Cart to Heart volunteer shopping service enables homebound seniors and disabled adults to receive needed groceries on a regular schedule. The program matches local people who are in need of a grocery delivery service with volunteers who want to make a difference in the life of a neighbor. This service assists individuals throughout Allegheny County, and the program is always seeking interested volunteers to shop for qualifying recipients.
Please contact us at 412-224-4700 for more information on becoming a volunteer shopper or a participant in the service.
Senior Reassurance
Senior Reassurance Program matches a volunteer caller with a senior who resides alone, providing a brief daily call to check on a senior's general well-being. These contacts also offer a much-needed respite from the isolation many seniors experience when they live alone. Calls are prearranged and can provide emergency contact if necessary.
To volunteer, call our Volunteer Programs Office at 412-224-4700
Administration & Office Support
Assist Ursuline Support Services and its various programs with its office and program activities such as mailings, computer data entry, filing, emails, reception duties and/or phone calls. Training is provided.
Please contact us at 412-224-4700 for more information on becoming a volunteer.